Specials
REGISTRATION MANAGER
- Too much national registration paperwork? Already have a website? Automatically create all the forms you need to register wtih AABC, NABF and PONY. Save your data and print when you're ready. Make edits and your forms automatically update. Allow your members to submit their own info online.
read more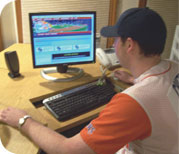 WHAT IS RUNMYLEAGUE?
RunMyLeague is the premiere web-based software for travel baseball leagues.
RML does it all - it provides easy to use tools for league administration, gives coaches, players and parents ready access to the information they need and want, plus offers fund-raising through online advertising.
read more

FINDING OUT IF RML IS RIGHT FOR YOU IS AS EASY AS

SEE A LIVE RML WEBSITE
- You can have a website like this one, fully customized to your League - choose the look you want and the League structure you need.
Check out the Live Site

SEE THE FULL SITE AS A REAL USER WOULD SEE IT
- Take a test drive on our Demo Site. Loaded with test data this site lets you try out all of RML's features. And you can see how an RML website can meet the needs of your league administrator as well as all other league participants.
Check out the Demo Site

SIGN UP FOR A FREE TRIAL
- Take advantage of our risk-free,
30 day free trial
where you can customize your own website and save your league's data. At the end of the 30 days you can sign-up and keep the site, or walk away at no cost to you.